Description
Do you use Hangouts on Air and want your viewers to interact with you more directly?
This simple Hangout extension gives you this possibility by displaying the comments happening on Google+ posts directly inside of the hangout, giving you the chance to react to the comments live.
Usage/Installation
You can simply start using the app in a Google+™ Hangout by clicking on one of the button below.
Please make sure to read and agree to the Terms of Service and Privacy Policy before using the app.
If this is your first time using the app, you will be asked to authorize it.
Clicking on "Continue" will open a standard Google Authorization window.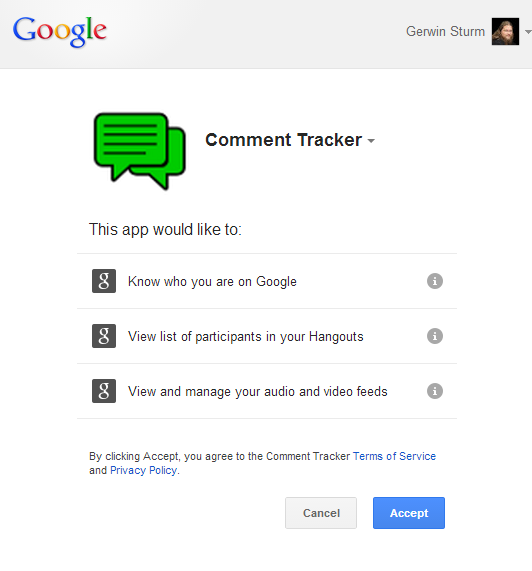 After allowing access you can start using the extension, by copying the URL of the post or YouTube video you want to monitor for comments and clicking on "Add" to start the process.
Post URLs will look like somehow like this:
https://plus.google.com/12345678901234567890/posts/Aa7zHd3z5GZ
The easiest way to get them is to right-click on the timestamp of the post you want and choose "Copy link address" or the according command of your browser.
You can track as many posts as you want simultaneously, also using posts from different users if necessary.
If you have added a post by accident you can easily remove it again by clicking on the bin icon next to it. This will also remove the according comments from the stream view.
Clicking on the timestamp of a post will take you directly to this post.
After you have chosen all the posts you need you can click on "Stream" on top to switch to the actual comments.
The comments will appear, newest first, and will be refreshed automatically once a minute.
The comments are colour-coded to go along with the colours of the different posts.
Clicking on the timestamp of a comment will take you directly to the relevant post, so that you can interact in the comments there.
If a commenter makes changes to their comment, the comment will be updated in the extension as well. To show you that something changed on a comment the timestamp will be highlighted, and changed to the time of the last update.
If a commenter decides to delete a comment, the comment will be grayed out at first and will then disappear after a short time.
If you need to make changes to what posts are being tracked you can go back to the posts view by clicking on "Sources" on top.
After you have used the extension once you will have easy access to it whenever you are in a hangout. Simply click on the green icon on left and the extension will be loaded.
Notes
Because the app uses the public Google+ API this will only work for public posts (for now).
The post has to be among your most recent 100 public posts so that the extension can find it.
When first loading the post only the latest 100 comments per post will be added. New comments will be added on top of the list after that.
Contact
If you have questions/suggestions/problems or want to stay updated on changes you can contact me on Google+ either personally or via one of my pages.
Disclaimer
This app is still in development and not all features might be available at all times. Also from time to time the app might not be working at all for you.
I have only tested it using Chrome in Windows 7 so if you have issues running it in other browsers please let me know.
If you like what I'm doing why not consider donating a little bit, so I can set aside more time to work on projects like this?
I also have an
Amazon Wishlist
of some stuff that would make me happy.
---
Google+ is a trademark of Google Inc. Use of this trademark is subject to Google Permissions.
This site is not affiliated with, sponsored by, or endorsed by Google Inc.

Programming by Gerwin Sturm, FoldedSoft e.U.